Bristan Group Coronavirus Update
We're still open for business and are following government advice to protect
our warehouse and customer service teams.
The infrared revolution is coming
The coronavirus outbreak has put handwashing at the top of many people's agendas and here at Bristan, we are getting lots of enquiries about our infrared sensor taps and how these great products can help our customers with infection prevention and control.
Are you looking to specify infrared sensor taps on your next project?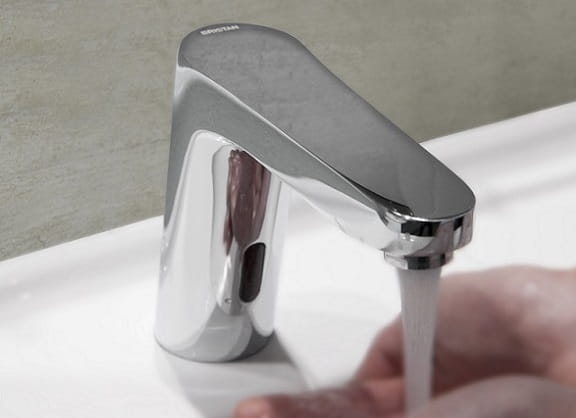 LEARN MORE ABOUT INFRARED SENSOR TAPS
What are infrared taps?

Traditional washroom or bathroom taps are operated by a cross head, lever or push button mechanism which all require the user to make physical contact with the tap to start the water flow. With an infrared tap, the water flow is activated by the user placing their hand within a 23-26cm range of the unit.
How does it work?

An infrared tap sends out an infrared LED beam (invisible to the human eye); once something interrupts this infrared beam – like a hand – the infrared light it is bounced back to a receiver in the tap which then switches on either a solenoid or thermostatic valve, to allow water to flow. Once the hand moves away, the valve will automatically switch off to save water.
How can infrared taps support infection control?

As a non-touch control tap, users don't need to make physical contact with the tap surface so the likelihood of indirect contact with germs, bacteria or infections is significantly reduced. The temperature can also be set either by the operator or the user, so the water will be consistently warm for more comfortable handwashing. 
Available in either battery or mains powered options, infrared taps can be used for almost any washroom making them an ideal choice for healthcare, care, education and leisure applications where good hand hygiene standards are to be encouraged to help infection prevention and control.