Create a Spa-Inspired Bathroom
Spa-inspired bathrooms can be a place of rest and relaxation that allow you to escape the stresses of everyday life. Whether your bathroom is at the centre of a busy family home or acts as a quiet hideaway, there are plenty of ways in which you can create that luxurious spa feeling – without compromising on functionality.

With a little thought, it's easy to design a space that reflects the endless tranquillity of a spa. If you are refurbishing or completely redesigning, follow our tips for creating the bathroom of your dreams.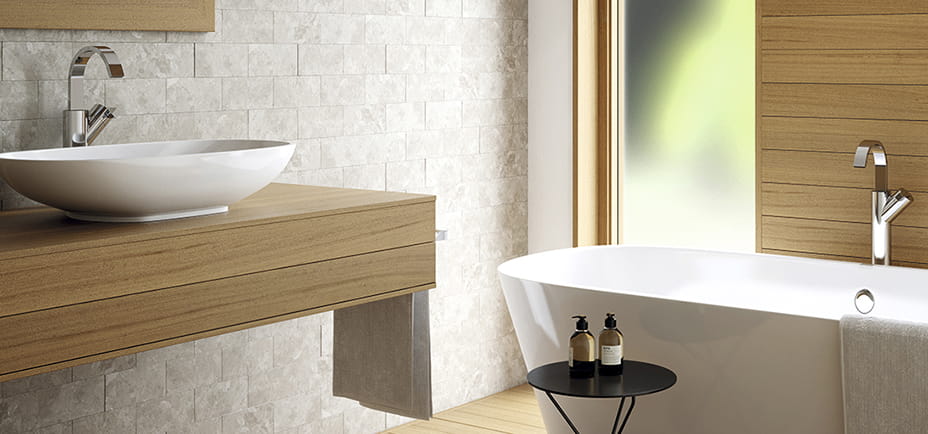 Surfaces
One of the best ways to bring a little spa-inspired chic into your bathroom is to choose a beautiful, luxurious surface for your worktops or walls. To create the feeling of a spa haven, choose wood. Light or dark, the natural texture of the wood – however it is finished – will add that personal and luxurious touch. Better yet, no two pieces are the same. The unique knots and patterns in different wooden surfaces create a luxurious spa bathroom feeling that is anything but from-the-box, as well as adding warmth.

In smaller bathrooms, it may seem like common sense to stick to lighter-coloured woods – and it's true that these will help open up your space a little. However, even with darker woods, the pristine white surfaces of your bathroom suite will bring out their unique colour and texture. Used sparingly, dark woods create an even greater feeling of luxury – think secluded alpine lodges and luxurious spas.

Alternatively, or in addition, use small mosaic-style tiles to recreate the look of your favourite spa, particularly if you can use them on the floor. If this isn't to your tastes, switch up to larger tiles in beautiful warm stone finishes for something that is both functional and beautiful.
Mirrors and lights
When we think of spa bathrooms, we immediately think of open spaces. A simple trick for adding extra space to your bathroom is to pay attention to how you use light. Use large mirrors to open up the room and reflect your light source. Large mirrors cross the line between the functional and the aesthetic, both adding to the feeling of space and acting as a striking feature that will make guests say 'wow'. When choosing mirrors, go for a contemporary frame – but nothing too cold, like metal – or, even better, choose something frameless that sits almost flush with the wall.

When it comes to lighting, consider multiple spotlights that sit flush with the ceiling. If you can, give yourself the option of turning on a few of these lights at a time, allowing you to increase or decrease the brightness as you wish – a dimmer switch may also help you here.
Colours
As any frequent spa-goer will know, neutral colours help to create an atmosphere of complete relaxation. But neutral doesn't have to mean boring – if you can't stand the idea of flat beige surfaces, think marble, light granite, and muted but beautiful shades of any colour you can think of. Light-coloured surfaces help create a light and airy feeling, soothing the eyes and immediately putting you in a calmer mental space. Natural stone will make any space feel truly luxurious, and it's also a timeless choice that will serve you for years to come.

Even with this in mind, there's plenty of opportunity to add that personal touch with a few pops of colour. A fascinating tile feature or a few bright accessories (such as gorgeous flowers) will draw the eye and create extra interest, without upsetting the soothing neutral colour scheme that makes your spa bathroom so relaxing.
Taps and showers
When you are creating your spa-inspired bathroom, even the smallest details should add to your cohesive and luxurious look. Choosing the right fittings will offset your suite and add to the spa experience, but it's not just the appearance of your fittings that matter; their functionality is important as well. Think cascading waterfalls and no-fuss lever taps that make your every move simple and easy.

Avoid more boldly traditional designs, such as art deco-inspired fittings, and choose something truly contemporary but unobtrusive. For example, the Chill collection by Bristan is inspired by spas, with spouts that have been influenced by the elegant arc of a swan's neck. Or consider the
Orb collection
, with showers that feature soft, organic curves. As part of the Orb Spa Pack, you can also enjoy four shower jets for a unique shower experience.

For a true feeling of luxury, you might also consider the
Bliss shower
. Featuring touch controls, digital temperature readout, and a large, multi-functional handset, each shower will be a truly special experience.
Accessories
Accessories will allow you to make your spa bathroom truly personal. Putting your individual stamp on your space will instantly make you feel more at home, adding to the instant feeling of relaxation. Bear in mind, though, that clutter is best kept to a minimum, as too many accessories – or bathroom products – can create a sense of untidiness and detract from the peace of your spa haven. Unobtrusive storage units are your friend in these cases, as they allow you to keep everything at hand without crowding your space.

It goes without saying that candles will always be welcome in a spa-inspired bathroom, as they help create an atmosphere that's perfect for when you are relaxing in the bath. Add a splash of colour and a feeling of freshness with beautiful flowers, and choose functional items – such as stone toothbrush holders and soap dishes – that complement your surfaces. Create your own look by displaying beautiful stones and shells in jars, and treat yourself to new sets of fluffy towels to really finish the look.
in this post
you may also like