Specifying for NHS and Healthcare
THERMOSTATIC AND NON THERMOSTATIC OPTIONS
WALL MOUNTED AND DECK MOUNTED OPTIONS
Bristan's range of medical taps and showers for healthcare allows you to meet the challenges of specifying for this most demanding of sectors while creating a safer, more comfortable washroom environment for patients and healthcare professionals alike.
The Bristan healthcare and medical product range has been developed in close collaboration with healthcare managers and specifying professionals and is based on extensive research into specific sector requirements.

Our UKAS 17025 approved labs test each one at every stage of the production process in a rigorous programme of quality control that means our failure rates are among the lowest in the industry.

Scroll down to see a selection of our medical taps, showers and DocM packs.

REad our hospital case study Order a specifier brochure
SOLO - Taps
Our SOLO tap range has thermostatic and non-thermostatic options to suit your washroom project. All basin mixers feature a removable spout to aid infection control regimes in medical environments and smooth machined internal waterways to help limit the build-up of bacteria within the tap body. The non-thermostatic tap range includes a tall body or shorter body tap with the choice of a short or long lever handle.
BACK TO TOP CHECK OUT OUR SOLO VIDEO
H64 - Taps
Our HTM04-01 (DO8) complaint TMV3 hospital mixer tap has been specifically designed to provide the ultimate washroom solution for medical environments. Unlike anything else on the market, the tap's integral flush technology means no additional equipment is required for servicing; making a routine thermal flush quicker and easier. In addition, the new internal waterway design within the valve body the mixed water area to help prevent the build-up of bacteria in sentinel points – both key requirements for the healthcare provider.
BACK TO TOP   Check out our H64 videos

Thermostatic - Mixing Valves
Our NHS and medical standard thermostatic mixing valves (TMV's) provide, safe, reliable mixing of hot and cold water to protect against scalding in hospitals and other healthcare establishments. Safety is our absolute priority, and products like our 15mm TMV's deliver the very highest safety standards in features like automatic shut off in the event of hot or cold water supply failure and isolation elbows to make vital maintenance easier and quicker.
BACK TO TOP 
DocM - Packs
DocM is the building regulation setting out guidelines for accessibility in domestic and commercial buildings.

It is particularly important in the healthcare environment, where many patients are wheelchair users suffering with limited mobility or need to be assisted to and from the washroom.

A fully certified range of washroom fixtures for increasing accessibility and giving patients with restricted movement the freedom to enjoy more independent bathing. Our toilet and shower packs are available in white, blue corrosion resistant aluminium for durability, strength and hygiene. We also offer grey and stainless steel as special orders.
BACK TO TOP 

OPAC - Showers
Our OPAC bar shower includes the same patented technology as our H64 Hospital tap, making much easier and faster work of hot water flushing. The result is drastically reduced labour time and costs for busy healthcare environments – as well as optimised infection control and safety.

Another of our OPAC range is the concealed shower valve that features easy access isolation elbows to make servicing and maintenance quick, easy and effective. A sequential lever control and clear graphics make it safe and easy for independent showering.
BACK TO TOP  CHECK OUT OUR OPAC VIDEOS
Shower - Panels

Our shower panels and kits offer rapid fit and dependable hot water safety in hospital washrooms. They offer a range of formats and solutions, including ceiling flush fit to hide exposed pipework plus integrated TMV3 rated mixer valves for protection against scalding. All our shower panels are WRAS approved, with timed flow controls assisting water efficiency by automatically shutting down after a preset time.

Plus, our TFP3000's range is coated with market leading anti-microbial product, which has been tested to ISO 22196:2011 standards to effectively reduce bacteria such as E.coli and MRSA by over 99%.

Our newer panels TFP3004IR and TFP3005IR are Infrared panels further preventing the risk of cross contamination.
BACK TO TOP
Our H64 hospital taps are also easy to commission and service.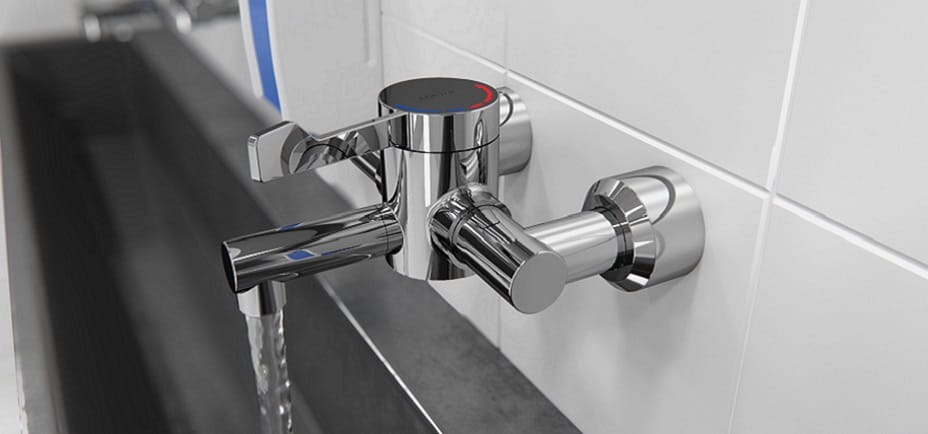 read more