Wave Digital Showers
Wave Digital Showers are brilliantly engineered to give you the perfect showering temperature every time. With preheat, pause and memory settings you and your family can wake up exactly as you want every day.
Perfect temperature every time

Once you have selected your perfect temperature via the touchscreen, intelligent thermostatic technology accurately maintains the temperature and stabilizes flow rate, regardless of changes in water pressure.


Perfect memory every time

The Wave remembers the kind of shower you like so you can always enjoy your perfect shower. Its memory feature allows multiple users to store their preferences, including flow rate, temperature and outlet.


Perfect pause every time

If you like to pause your shower the Wave features a Pause mode that remembers the shower settings used before soaping or shampooing and seamlessly re-introduces them at the tap of the touchscreen.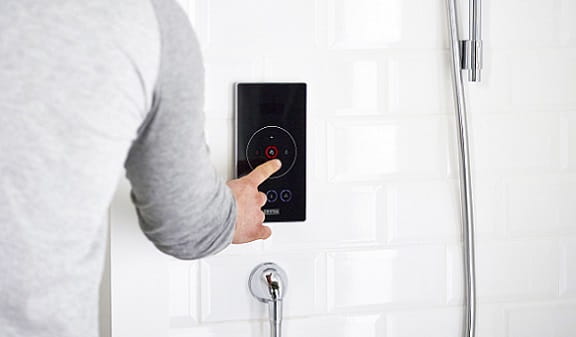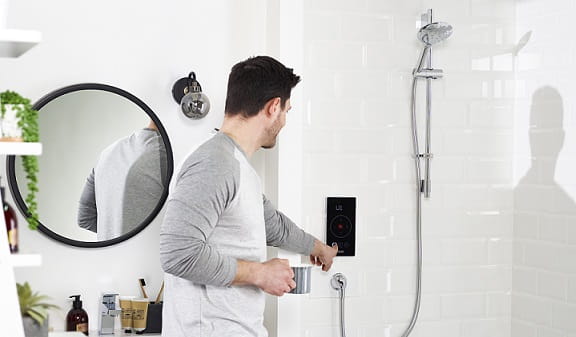 Choose from two models: the Wave Single Outlet Touchpad or the WavePlus Dual Outlet Touchpad, with multiple shower kits available for both designs.

The Wave Digital Mixer Shower, Single Outlet with Adjustable Riser kit provides extensive on and off-mode features including a pre-heat and memory setting, pause-mode and flow-adjustments, thermal disinfection and eco-flow rate in a compact device.

The WavePlus Digital Shower uses the same brilliantly simple technology as the single outlet, while giving the consumer the option of changing the outlet to suit their preference, plus the addition of more memory settings for multiple users. There are two options for the Dual Outlet which enables the user to choose between a fixed head or handset, depending on their preference.
Intuitive touch screen - select your perfect temperature, flow or program specific settings for different family members.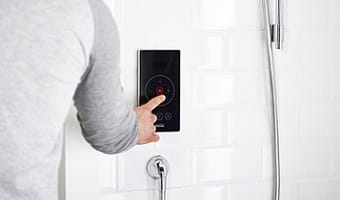 Uniquely yours - get a perfect shower every time as Wave allows multiple users to store their preferred showering options.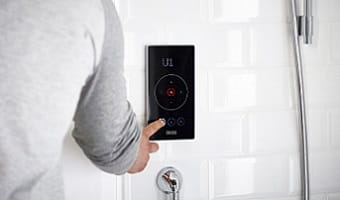 Find your perfect temperature every time - Wave goodbye to cold blasts when someone runs the downstairs tap!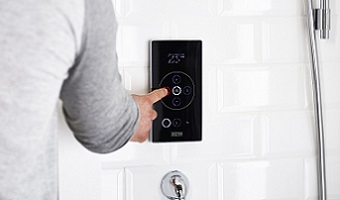 Go with the flow - precise water flow rates to achieve consistent showering performance.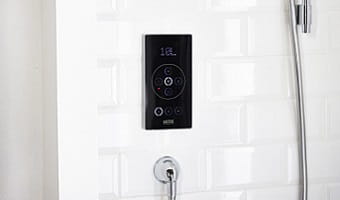 FIND OUT MORE ABOUT DIGITAL SHOWERS


What are digital showers?  

The Bristan WAVE digital shower refers to a mixer shower that controls flow and / or temperature using electronic systems rather than a mechanical thermostat. They also tend to use an electronic control device for the user to set up their showering experience.
 

What are the benefits of a digital shower?  

Bristan WAVE Digital showers can offer a more precise and controllable shower experience, often with memory settings and functionality to allow users to set various options for different requirements, i.e. between family members easily. They can also give a more consistent shower experience due to the electronic system constantly monitoring water pressure, temperature and flow to ensure there are no temperature spikes.


Is a digital shower an electric shower?  

No. The Bristan WAVE digital shower uses hot and cold water to mix together to a comfortable and safe user temperature. An electric shower uses only cold water which it heats up within the shower unit to get to the desired user temperature.  


Are digital showers reliable?  

Yes. Bristan WAVE Digital showers are tested to comply with water regulations, and come with a 5 year warranty. The WAVE digital mixer unit and WAVE control units are tested to 200,000 thousand operations.  


Do digital showers need a pump?  

Bristan WAVE digital showers will operate from a minimum inlet pressure of 1.5 bar, so are ideal for use with combi-boilers or pressurised water systems. They can be used with the Bristan Negative Head shower pumps.


Is a digital shower a smart shower?  

Bristan WAVE digital shower is 'smart' in as much as it will calculate, monitor and maintain the best shower experience under changing conditions i.e. loss of water pressure etc... based on user settings. It does not communicate with external devices i.e. smartphones etc... and does not have Wifi or Bluetooth capability.  


What is a digital mixer shower?  

The Bristan WAVE digital shower is an electronic mixer shower; it takes separate hot and cold water feeds and mixes the water together to give a consistent and accurate temperature and flow based on the user's requirements. It monitors the performance of both the incoming water supplies and the delivery of the mixed water to ensure a fantastic showering experience every time.  


Why have digital showers become so popular?  

Because of the added functionality (memory settings, accurate temperature and flow settings) as well as the aesthetic design (stylish digital interfaces within the shower space) digital showers are growing in popularity.