JOY
Thermostatic Electric Shower 8.5kW - White
£190.00 RRP
PRODUCT CODE: JOYT385 W
The Joy electric shower offers a modern design with the choice of white or stylish metallic silver finishes. Thermostatic technology means that your chosen water temperature will stay the same for the duration of your shower, regardless of other things going on in your house such as someone flushing the loo. A push on/off button and separate flow and temperature dials are easy to operate. Its universal footprint means that it will cover the space left by your old shower, saving you the hassle of re-tiling.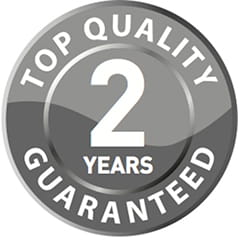 Guarantee

WRAS Approved

BEAB Approved

Thermosafe

Digital Display
Long Life

Multipoint Entry

Energy Label
Please choose your options
Colour

Power

This item is not currently available to purchase on this site, you can order now from a retailer or through one of our online partners.
FIND A RETAILER
SPARES
Useful Info

Fitting & Spec

Guarantee

Water Label

How to Fit

Share

Find a Retailer

Chat Online

Useful Info
Comfortable, safe showering; the thermostatic feature avoids temperature changes when water is used elsewhere in your home.
Anti limescale feature reduces build up and rub-clean handset helps extend product life.
Choose your ideal temperature with the digital display.
Warm up mode; set your temperature and once reached the on/off button stops flashing; no more cold starts!
Perfect replacement shower; multiple water/cable entry points for easier compatibility.
Performance indicator. Keep your shower in tip top condition with out unique visual reminder to clean the external filter and handset; for longer lasting shower performance.
Product storage; large soap dish.
Finishing touch; extra large colour coordinated showerhead.
Powered and ready for use when on/off button is illuminated.

Fitting & Spec

Guarantee

Water Label

How to Fit

Share

Find a Retailer

Chat Online